Our First Annual Company Picnic
July 21, 2018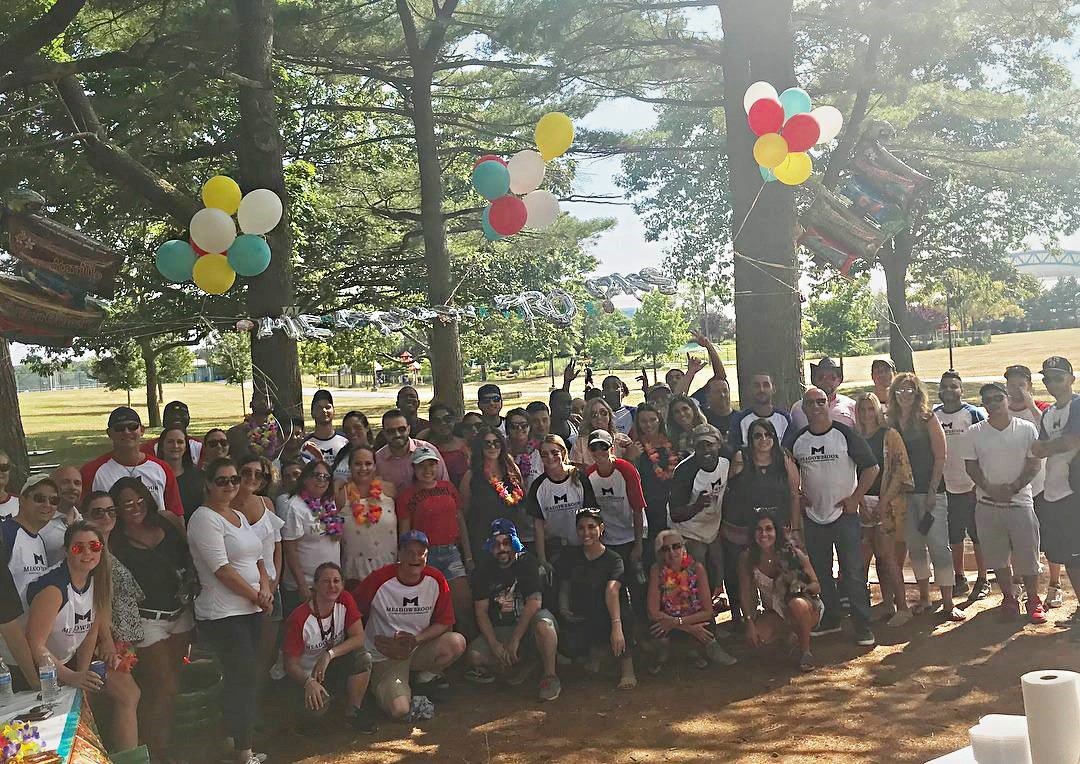 Softball, cocktails, potato sack races and…Margaritaville?!
That was the recipe for Meadowbrook Financials' first annual company picnic in Eisenhower Park. If you know Meadowbrook, you know no stone is left unturned when it comes to creating memorable company events and gatherings. Whether it's a company get together inside of the office or out, you can guarantee you'll leave with a full belly and a story to tell.  
This year the company decided to do something different for its annual Summer Kickoff.
A team of dedicated employees helped turn Eisenhower Park into a Margaritaville-inspired wonderland. From the balloons and blow-up palm trees to the bar and mini-umbrellaed cocktails, it definitely felt like 5'o clock somewhere. (okay, almost)
Country music, cornhole games, and cold margaritas set the tone for an afternoon under the shade of the trees.
It also helped that the weather was beautiful!
After loading up on the usual picnic snacks of various chips and dips, the very athletic, competitive (and brave) Meadowbrook employees took to the field in their company t-shirts to show their softball skills and fight for victory. This was no light game of softball, either. There were home runs, wipeouts, and lots of dirt-covered players.
Don't forget the not-so-brave employees that chose to serve as cheerleaders on the sidelines either. (We're important, too!) Because with every wipeout, we provided laughter. With every home run, our hands went up. And each time a co-worker stepped up to the plate…we shouted their name embarrassingly loud and proud!
A well-earned victory and huge congratulations goes out to the Black team for holding the first official Meadowbrook Financial softball game-winning title!
The softball game itself seemed to be a fan favorite amongst all employees because it gave everyone the opportunity to bond over an activity that we normally would not have experienced together…and provided laughter for hours.
At any Meadowbrook party, food seems to be the talking point…with an array of salads and heroes for lunch, plates were filled and it suddenly became much more silent as everyone devoured what was in front of them.
We also had a very special visit from the Kannoli Kings in Massapequa. If you're a cannoli lover, this place is for you. With an assortment of flavors ranging from Reese's peanut butter to birthday cake and pumpkin pie, your sweet tooth will be satisfied. We went with the dessert flavors but were shocked to find out they also make savory cannoli's?!? (spinach dip, truffle mac n' cheese and BBQ chicken to name a few!)
As Meadowbrook's picnic came to an end, it felt more like an elementary school field day once the potato sacks came out. Several employees joined in and hopped their way to the finish line…maybe even a little too high that they crash landed on the ground.
All in all, Meadowbrook Financial's first company picnic was an ultimate success and fun was had by all. Special thanks to the owner, Danny Nicolo for making it all possible. His generosity knows no limits. You may even see him joining in on the potato sack races and softball game if you watch the video below!
Ready To Get Started?
Fill out the form below and a mortgage professional will get back to you shortly.